Light Vehicle Recovery
If you suffer a vehicle breakdown or require car recovery and you are a member of one of the large auto clubs, AUTO:TEC are an accredited partner with all of the UK's major auto associations and Insurers, providing rescue, recovery and assistance for breakdowns, minor repairs and accidents.
But what if you don't have a membership with one of these bodies? What if you require specialist recovery from an off-road location, recovery of a stolen vehicle, transportation to a local destination or local breakdown assistance, then you could call direct: 01475 742800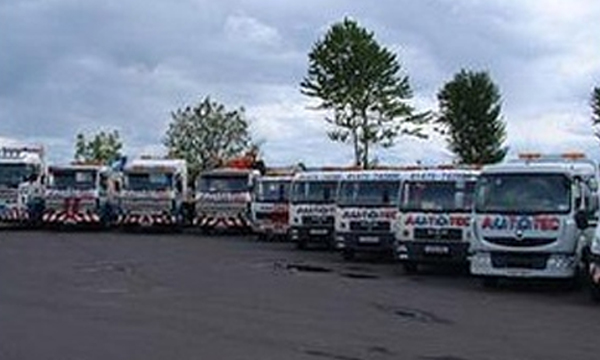 Established in 1991 AUTO:TEC Recovery Services has become a highly respected award winning member of the Breakdown and Recovery Industry.
All of our dedicated staff are trained to the highest standards and linked with our extensive fleet of modern vehicles, we are capable of repairing or recovering Heavy Goods Vehicles, Buses, Coaches, Mini Buses, Light Commercial Vehicles, Cars, Specialist Vehicles, plant & agricultural vehicles. Our fleet has expanded to over 20 vehicles, our specialist trucks are able to accommodate everything from motorbikes and small Town cars, through to Classic & Vintage Vehicles, 4×4's, Prestige Sports cars, Caravans & Motorhomes.
Vehicles are on standby and available for immediate despatch 24 hours a day, seven days a week, 52 weeks a year. With a 24 hour assistance line and fully equipped workshop, these resources enable us to solve the most complex of recovery problems and as a result we can be trusted to deliver the highest quality of service at all times.
AUTO:TEC operates vehicles rated up to 150 tonnes and is highly experienced in the recovery of heavy trucks, buses and construction machines from the most difficult locations.
Do you need a lift?
Vehicles involved in an RTA can often be found in unusual situations but with experience and the right equipment they are always recoverable.
Our specialist recovery equipment and highly competent, experienced operatives enable us to recover vehicles from any situation both quickly and safely Including oversized or unstable loads, hard or soft ground.
All of our heavy vehicle recovery units have the ability to 'right' an overturned vehicle from their side on any type of ground and in any recovery situation.
To recover your vehicle safely and efficiently, and ensure that no harm comes to your driver or the public at large.
Prestige Car Transportation
Should you have a special request for covered recovery of your sports car, or the prestige recovery of an expensive performance car, AUTO:TEC can deal with this for you using one of our specially designed covered vehicles.
AUTO:TEC load performance, sports or classic cars with low ride heights, spoilers and skirts safely and efficiently and guarantee no damage to your vehicle.
We also offer a motorcycle recovery facility using our specially converted recovery trucks.
Whether for rescue, recovery or transportation, you need the skills, experience and care which only a specialist operator can provide through a prestige recovery service.